The festival of lights, Diwali, is arguably India's biggest religious celebration, when homes, institutions and entire neighbourhoods are decorated with candles, earthen lamps and fairy lights on this auspicious moonless night. Diwali, Deepavali is the Hindu festival of lights, usually lasting five days and celebrated during the Hindu Lunisolar month Kartika which falls in mid-October or mid-November (the exact dates change depending on local custom).
Traditionally, however, different regions of India have diverse ways of commemorating this day. Different parts of India celebrate Diwali in their own unique ways. The names of the five days of Diwali vary by region. Each day has its own set of traditions and rituals.
North India - Diwali Celebrations
According to the Hindu epic Ramayana, Diwali was celebrated for the first time when Lord Ram killed Ravan and returned to his home 'Ayodhya' after 14 years. The people of Ayodhya lit up their homes with oil lamps and turned the night into a light festival.
Lord Ganesha and goddess Lakshmi are also worshipped in Hindu homes on this day. The houses of the people are cleaned and decorated with candles, clay lamps, flowers and rangolis. All of these are done to invite Goddess Lakhsmi, whose blessings are believed to bring wealth, prosperity and peace in the families.
West India - Gujarat and Maharashtra
Gujaratis draw footprints of goddess Laxmi on the threshold of the house, light their homes with candles, rice lights, burning crackers, and diyas on the night of Diwali. Maharashtrians perform Lakshmi pooja in their homes and organize a feast known as Faral for families and friends. The exchange of gifts and sweets takes place between relatives, neighbors and friends.
On the night preceding Diwali, Gujaratis start celebrations by creating designs depicting images associated to the festival like deities, sun and flowers from natural powder colors (called Rangoli) in their home.
It is also the beginning of the new financial year for the business community and traders. Businessmen and traders close old account books and start new account books and do Chopda Puja, which is the worshipping of Chopda.
On the following day of the diwali, the people of Gujarat celebrate Bestu Varas, also known as the New Year's Day. Gujarati New Year is an extremely important day for the Gujarati community. Youngsters take the blessings of elders on that day.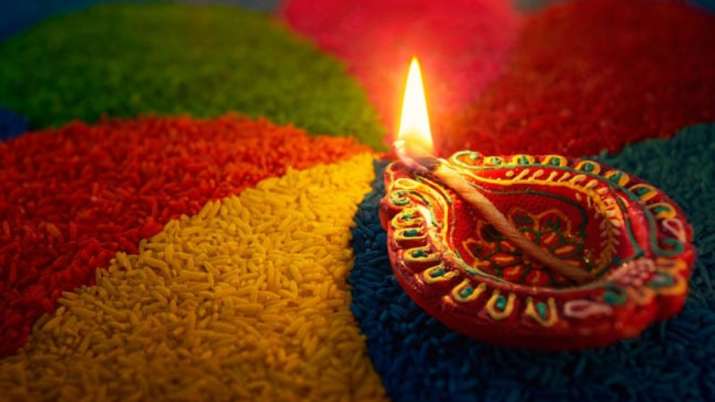 East India - West Bengal and Odisha
In eastern region of India such as West Bengal and Odisha people worship Goddess Kali and call it Kali Puja (although Kali Puja sometimes falls a day earlier depending on the lunar cycle).
Bengalis worship Goddess Kali for three days and celebrate the occasion by lighting up entire localities, bursting crackers. Most of the houses are brightly lit and the doors and windows kept open to welcome Goddess Lakshmi, who is supposed to visit every home during this time and ignores all places that are kept dark and abandoned.
South India - Tamil Nadu and Karnataka
Diwali is celebrated in the Tamil month of aipasi (which is thula month), also Naraka chaturdasi thithi. Lord Krishna killed Narakaasur who invaded the three worlds. People wash their homes and decorate them with kolam designs, which are similar to rangolis in North India.
In Tamil Nadu newly married couple spend their first diwali after marriage in the bride's parental home. After taking blessings from the elders, they burst the first crackers of the day.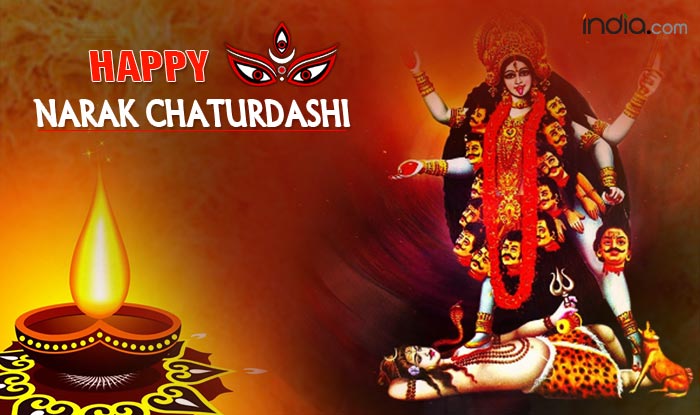 Diwali is declared as a national holiday every year. Diwali is an occasion of joy, merrymaking, and togetherness for Indians around the world.